Redefining the shopping + dining destination
As one of the largest and most extensive shopping center destinations in south-west Sydney, Macarthur Square provides a contemporary and family-friendly setting, indoors and out. A series of refurbishments over time has enhanced the retail, dining and entertainment experience, a place that has been at the heart of the community since 1979.
Revamp + revitalise
Through redesigning a series of indoor and outdoor spaces as part of the Macarthur Square Shopping Center upgrade, Code Design was able to revitalise the food court and breakout areas for the community and visitors alike to elevate the overall experience and activate underutilised spaces.
With a long-standing relationship working with Code Design and Macarthur Square, Botton + Gardiner created custom joinery and a range of furniture pieces to transform the design concept into reality.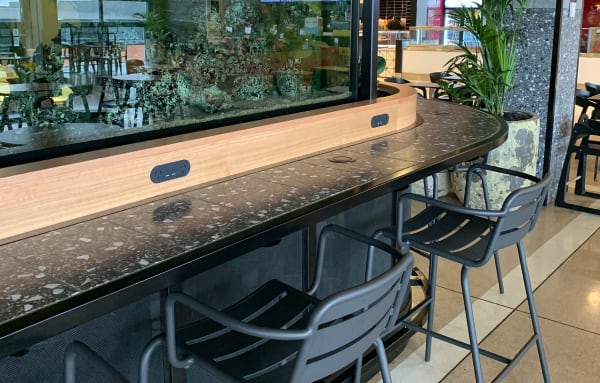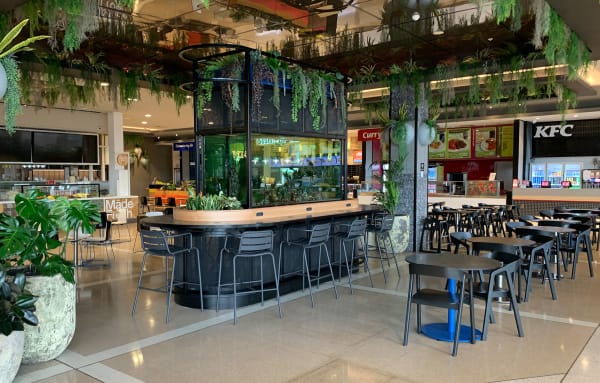 Indoor design feature
Used as a unique feature and natural element, a large aquarium was installed and integrated into the overall design scheme to provide a key focal point and add visual interest. Positioned in the middle of the food court, the aquarium became a centrepiece around which custom curved joinery was created to provide a distinctive area for visitors to greet, meet or eat. Working closely with the fish tank company, Botton + Gardiner integrated a curved table setting around it to ensure all the fish tank systems could function and be serviceable. GPO and wireless device chargers were also included in the design.
Reuse + upcycle
In the interior space, existing furniture was reused and upcycled wherever possible as part of the Lendlease brief, which involved Botton + Gardiner re-conditioning and re-upholstering a range of bench seats and loose chairs.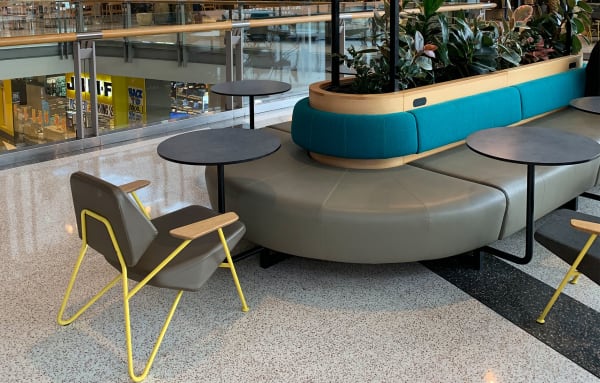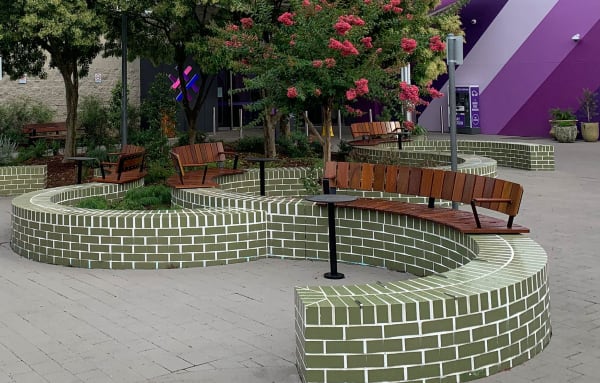 Outdoor breakout space activation
While drawing people from the outside in was a key part of the design, so too was the need to create a space to draw people from the inside out. Through creating a series of curved seating areas, an underutilised outdoor area was activated to provide a comfortable breakout space for customers and retail staff to take a break from the everyday.
Featuring custom wall-mounted curved seats, Urban curved benches and Terrain seats with durable Spotted Gum hardwood that are paired with Fixed post tables, the Purple Entrance offers an inviting place to sit down and relax.